Scholarships are funds meant to assist college-bound students in paying their college tuition and fees. This is by no means a complete list of scholarships that AO students can apply for. You can also do internet searches and apply for scholarships through your specific college or university. Scholarship applications can take some time, but they can be so worth it. Scholarships do NOT have to be paid back, and some are even renewable, meaning you can renew it for the same amount for the four years you're in college!
Here is a SCHOLARSHIP TO-DO WORKSHEET to help you stay organized and on-track!
AOEA annually awards one or more $500 scholarships to AOHS graduating seniors with a cumulative grade point average of 4.0 (B) or higher. You must be attending a 2 or 4 year college on a full-time basis in Fall 2022. Turn in all application materials to the counseling office. Applications are due by Monday, May 2 by 3:10pm. Applications received after the deadline will not be considered.
Mary Rohrscheib Teaching Scholarship
Students planning to become teachers can apply for the above scholarship. Mary Rohrscheib was Macon County Teacher of the Year in 1973 and this scholarship is coordinated by her grandson, Josh Rohrscheib, in memory of her. Click the above link to apply. Applications are due by July 22, 2022.
Illinois P.E.O. Chapter BW Scholarship
Senior ladies, there are multiple $1,000 scholarships available through a local P.E.O. Chapter-- "Women Helping Women Reach for the Stars". This is a separate scholarship than the Star Scholarship that you may have applied for as a junior. See the above link to print the application. Printed copies are in Mrs. Mendez's office. Two letters of recommendation are required along with a short essay. This scholarship must be postmarked by April 30, 2022. Mrs. Mendez will mail them if you turn them in by April 29.
Bridge to Betterment Scholarship; Argenta Bridge Church
Multiple awards worth $500/semester are given each year. You may reapply each year and receive this award for up to four years. No church membership is required. All types of college are accepted. Click the link above for the application or come see Mrs. Mendez for a printed copy. Applications are due to the address provided by April 29, 2022, or you may give it to Mrs. Mendez by April 28 to turn in.
Melanie & Amy Camfield Memorial Scholarship
This scholarship is open to any student with any post-secondary plans: college, trade school, etc.
The Camfield Family has created a scholarship in memory of Melanie & Amy Camfield (mother & daughter) who were killed in an accident caused by a drunk driver. To honor some of the characteristics that Melanie & Amy demonstrated, and to emphasize hard work and respect, these are the criteria for the scholarship. To apply, write an essay regarding how hard work, respect, and responsibility have influenced you and the person you are becoming. Consider giving an example of how someone in your life has shown work ethic, respect, and responsibility and has impacted you. Explore how you strive to show respect and responsibility in your adult life. The goal of writing this essay is personal growth. Essays should be typed, double-spaced and a maximum of one page long. There is no formal application form to complete.
Early Bird Deadline: If you turn your essay in by Thursday, April 15 by the end of the school day, you will be entered into a drawing for cash money!
Final Deadline: Essays are due Friday, April 22 by end of the school day. Turn essays in electronically or in-person to Mrs. Mendez. If you send it to me over email, please verify that I received it.
Richland Community College Scholarships
Before applying to any scholarship, students fill out the general scholarship application in order to determine which scholarships they're eligible for. Students must have applied to Richland and activated their student account before they're able to do that.
Scherer Honors Scholarship: This is the full tuition scholarship to RCC. GPA requirement: 4.375+/5.0. The application opens March 10, and the early decision deadline is March 31. You can still apply after this date and be considered after the first group. Click the link for the flyer. There is also money available for students who plan to transfer from RCC after being in the Scherer Honors Program.
General RCC Scholarships: This application opens March 28, but it is best if you wait until you're registered for classes before applying, otherwise you might not be flagged for all of the scholarships you're eligible for.
Pursuit of Excellence Scholarship
Every year, the Sigma Nu Fraternity offers this scholarship to a deserving high school senior male who will be attending the University of Illinois, and who exemplifies outstanding qualities in academics, athletics, altruism, and the arts. Male students who will be a freshman at UIUC in Fall 2022 with a 3.0/4.0 GPA are eligible (4.0/5.0). Receiving this scholarship puts the student under no obligation to join the Sigma Nu Fraternity. Apply at the Google Form link above. This is due on July 1, 2022.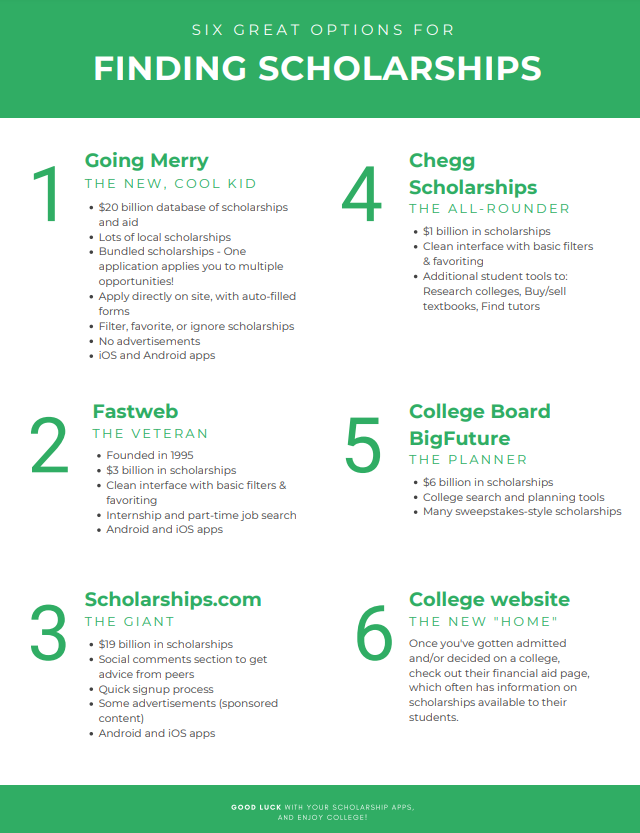 Check out these websites for bigger scholarship search engines!