Scholarships are funds meant to assist college-bound students in paying their college tuition and fees. This is by no means a complete list of scholarships that AO students can apply for. You can also do internet searches and apply for scholarships through your specific college or university. Scholarship applications can take some time, but they can be so worth it. Scholarships do NOT have to be paid back, and some are even renewable, meaning you can renew it for the same amount for the four years you're in college!
Here is a SCHOLARSHIP TO-DO WORKSHEET to help you stay organized and on-track!
Scholastic Art & Writing Awards
There are many and although regional deadlines vary, they could be as early as December 1, 2021. Go to the link above see all of the scholarships for which you can apply!
Conservation Achievement Scholarship
This opportunity is available to outstanding high school seniors in Illinois who have demonstrated effective, voluntary, long-term dedication to the preservation, protection, enhancement and/or promotion of Illinois' natural resources. Four scholarships of $2,000 each will be awarded by the Illinois Conservation Foundation. Applications are due March 1, 2022.
Amazon Future Engineer Scholarship Program
100 students will be awarded $40k for college and a paid programming internship. This scholarship is for those students with any computer science experience (formal or independent) and seeking a degree in computer science, software engineering, computer engineering, or other computer science-related field. Must have a B average or better GPA and demonstrate financial need. Application is open until January 25, 2022. Questions? Email: AmazonFutureEngineer@ScholarshipAmerica.org
Cirkled In "No Sweat Scholarship"
The only requirement is to make a Cirkled In account and student portfolio. No GPA or income requirements. Cirkled In is a scholarship database website. The "No Sweat Scholarship" is worth $2,500 and is due December 31, 2021.
Illinois Chemical Education Foundation Scholarships
Each scholarship has their own requirements. Please click the links to view the documents.
This is a statewide scholarship between many Illinois community banks. We had a student make it to the finals last year! AO is sponsored by Gerber State Bank in Argenta. The link above takes you to the pdf of the application that will have to be printed. Copies are available in the counseling office. This is due to Mrs. Mendez or to Gerber State Bank by Tuesday, January 18. Gerber State Bank will then select an essay to send to the statewide competition and award that student $100 regardless of how they do in the state competition. If you don't know how to answer the essay question, talk to your parents and grandparents!
There is one national award applicable to any university and there are university-specific awards. Male students are eligible as it is a fraternity-funded scholarship, Christian faith preferred. Click the link above for more information. Due dates vary, but the earliest deadline is March 6, 2022.
Golden Apple Scholarship Program
This program offers tuition assistance (up to $23K) among other benefits to aspiring teachers. Specific colleges and universities participate in this program and can be viewed at the link above. Deadline is April 1, 2022.
VFW National Auxiliary Scholarships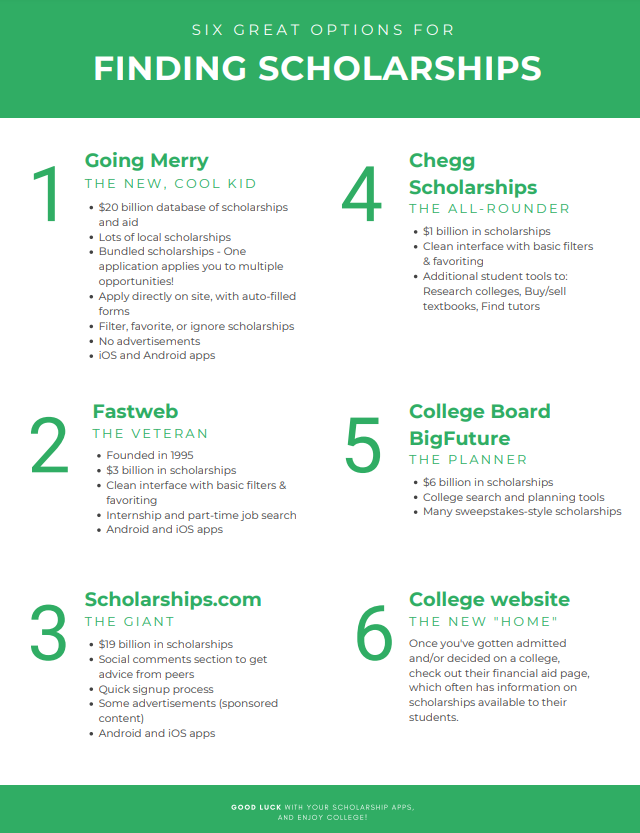 Check out these websites for bigger scholarship search engines!