The agenda for the school board meeting on January 11, 2021 can be found at the following link.
https://5il.co/od6i
- For ease of access, you can view the meeting live (January 11, 2021 at 6:00PM) at the following link.
https://youtu.be/dWkyXLVTQKg

This is a re-post of the Live link for the board meeting tonight. This link was previously placed in our agenda. Thanks
https://youtu.be/Wbw_DV3tWAw

The December Board Agenda for the meeting scheduled December 14, 2020 can be viewed at the following link.
https://5il.co/nrd2

Information regarding the AOCUSD #1 transition to a Blended Learning Plan can be accessed at the link below. Thank you for your continued support and understanding during this difficult time. We plan to start our Blended Learning plan on Monday, October 19, 2020 - the first day of the 2nd quarter of the 2020-2021 school year. Students participating in the Blended Learning Plan will attend school for In-Person learning on Monday, Tuesday, Thursday, and Friday. All students will participate in Remote Learning on Wednesdays. Additional information and details can be accessed by clicking on Menu and then District Reopening Plan in the menu.

AO Letter to the Public regarding COVID positive test result of staff.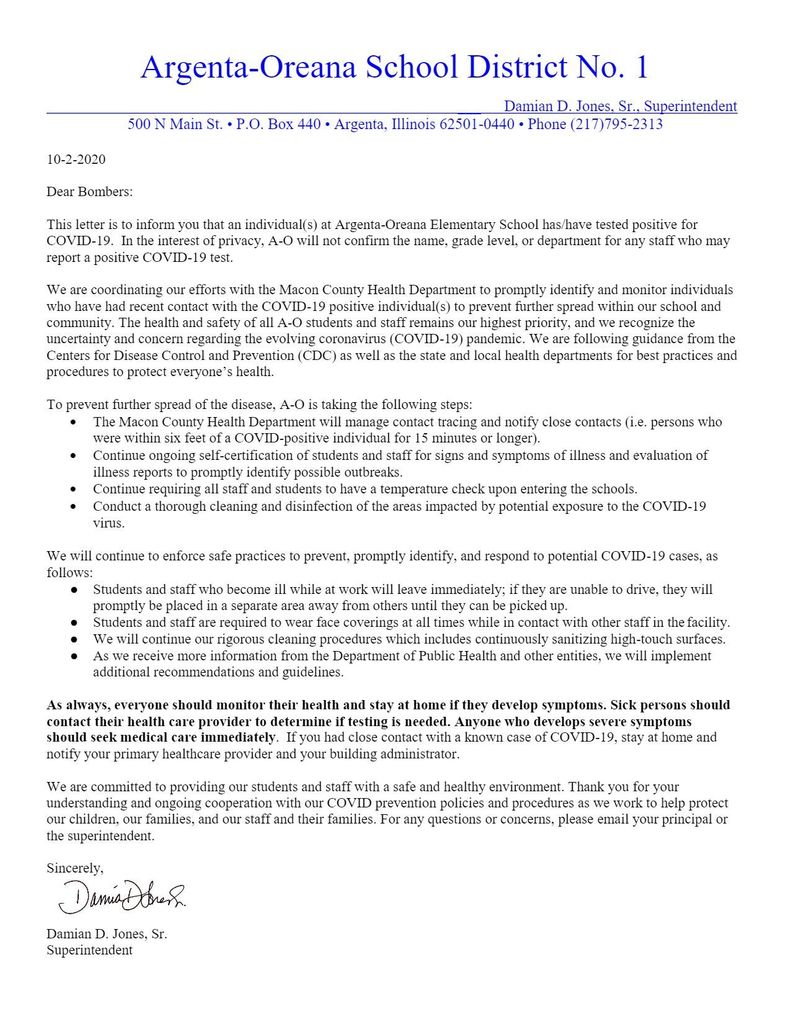 Good morning Bombers! #WEareAO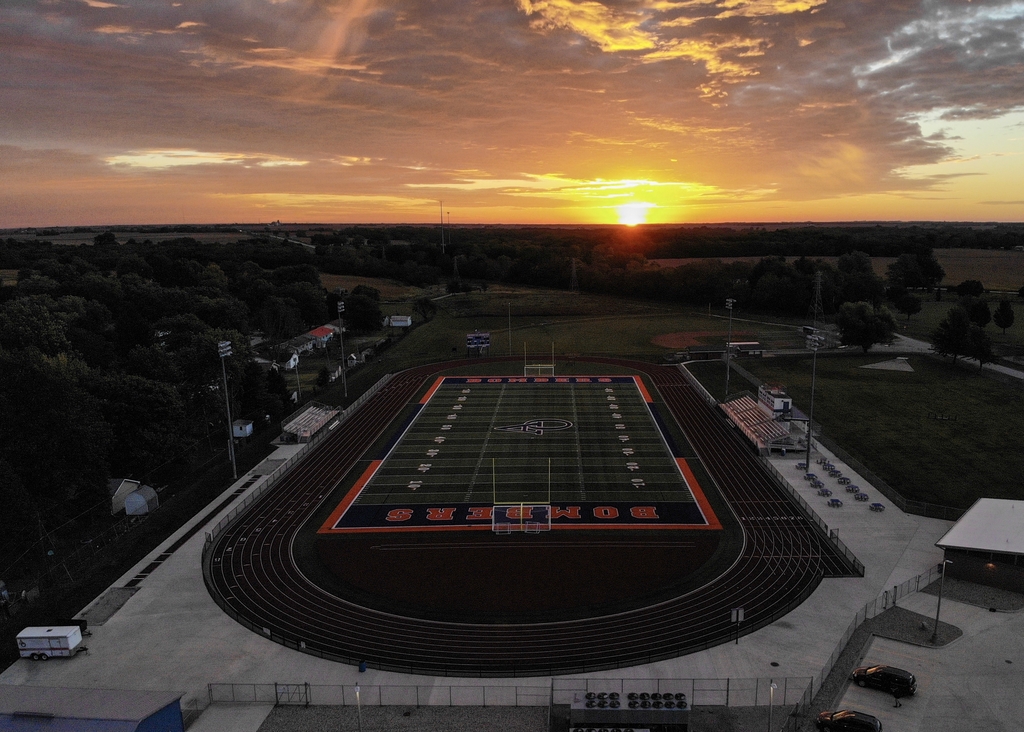 If your child is attending AOHS for the 20-21 school year, a technology survey was sent through TeacherEase email. Please complete the survey if you will need to check out a chromebook. If you did not receive the email please call the HS office at (217) 795-4821.


Please view the following document regarding AO's back to school plan for 2020-2021. Thank you
https://5il.co/igoe

Next week will be our last week providing Grab and Go Meals for the 2019-2020 school year. Meals will be available on Monday 5/18 and Wednesday 5/20 The link is below. #WEareAO
https://bit.ly/AOmeals10

The link to sign up for Grab and Go Meals is available below. Meals will be available on Monday 5/11 and Wednesday 5/13. Happy Mother's Day to all of our Bomber Moms!
https://bit.ly/AOmeals9

Please be reminded of meal drop off today - in the interest of your safety and the safety of our workers please be sure to wear a mask / face covering when picking up lunches. Thank you

It is Teacher Appreciation Week. Please join us in honoring our teachers. We miss seeing you everyday in our schools; however, we appreciate all you are doing to educate our students through Remote Learning. Have a great week and stay healthy!

AO Grab and Go meal sign up link is available. Pick up will be on Monday 5/4 and Wednesday 5/6. #WEareAO
http://bit.ly/AOmeals8

AO Grab and Go Meal sign up for next week is available. Please note pick up will be on Monday and Wednesday due to our main delivery arriving on Tuesday. #WEareAO
http://bit.ly/AOmeals7

Hello Bombers, Today, Governor Pritzker reported at his press conference that he will extend the mandated school closure through the end of the school year. We know that this is a situation beyond our control. We feel awful for our students and extracurricular participants, especially our seniors and spring season athletes. We know we will get through this together. Our biggest concern moving forward continues to be the safety and security of our students and staff. Our Grab and Go meals will continue to be delivered through Thursday, May 21st. Remote Learning will also continue through the same date. Our Remote Learning Plan will be continuously evaluated and updated for the remainder of the school year. April 20th, May 4th, and May 18th will be Remote Learning Planning Days (no student requirements). The last Remote Learning Day will be May 21st. In other words, the last day for students will be May 21st. Plans for students to pick up their belongings will be announced by the principals. We anticipate that it will begin May 4th. This will be an organized "pick up at a door process" to comply with social distancing strategies. Final grades should be available by the end of the week of May 25th. We will continue to utilize Facebook, Twitter, and our web site to communicate with our Bomber public. If you have any questions, please send an email #WEareAO Take care and stay safe, Damian D. Jones, Sr. Superintendent

AO Grab and Go Meal survey is available for next week 4/20-4/24/20. Meals will be available on Monday 4/20 and Thursday 4/23. Pick up times are 11:00-11:30 AOHS / AOEL / Wilderhaven and 11:45-12:15 at Camelot. #WEareAO
https://bit.ly/AOmeals6

Happy Easter Bombers! We hope all of our Bombers are safe and doing well. Meals this week will be available on Tuesday and Thursday. We will return to Monday's and Thursdays in future weeks. #WEareAO
https://bit.ly/AOmeals5

Meal drop off today Monday, April 6 will be delayed at Wilderhaven and Camelot by approx 15 min. Sorry for the inconvenience.

AO Grab and Go meal survey for next week (4/6 - 4/10) is available at the link below. Drop off will occur on Monday and Thursday again. 11:00-11:30 for AOHS /AOEL / and Wilderhaven. 11:45-12:15 at Camelot. #WEareAO bit.ly/AOmeals4