AO Grab and Go meal survey for next week (4/6 - 4/10) is available at the link below. Drop off will occur on Monday and Thursday again. 11:00-11:30 for AOHS /AOEL / and Wilderhaven. 11:45-12:15 at Camelot. #WEareAO bit.ly/AOmeals4

Please be reminded of pick up times for AO Meal Drop off tomorrow - Thursday, April 2. AOHS / AO EL / Wilderhaven 11:00-11:30 Camelot 11:45-12:15


Thank you for your completion of our technology survey earlier this week! We received 515 responses! Your feedback provided us with the information needed to determine some of our district needs. Based on the information provided to us, approximately 50 homes indicated a need for a Chromebook. We are happy to help meet this need by offering a process for parents / guardians to check out a Chromebook for their student(s) to use during Remote Learning Days. A couple of important things to keep in mind: Only one Chromebook will be provided per household. Please complete this survey ONLY if you have a need to check out a Chromebook. If your student(s) would prefer to use their smartphone / tablet that is ok. Do not feel like you are required to request a Chromebook if your current device is meeting your needs. DEADLINE - If you are completing this survey - please complete it by 3:00 PM Thursday, April 2, 2020.
https://bit.ly/AODevices

Hello Bombers, Today, Governor Pritzker reported at his press conference that he will extend the mandated school closure through Thursday, April 30th. This means the earliest we could return to school is Friday, May 1st. Like you, we have no idea if the mandated closure will be extended again. We anticipate that the district's Remote Learning Plan will be posted on the district's website no later than 5:00 pm tomorrow. Links will be provided for each school. Our plan will be continuously evaluated and updated as we move forward. Please review the plan for further guidance. We know that this is a situation beyond any of our control. We will get through this together. Our biggest concern is the safety and security of our students and staff. We will continue to utilize Facebook, Twitter, and our web site for further updates. #WEareAO Take care and stay safe, Damian D. Jones, Sr. Superintendent

Many of you may have heard that Illinois schools have been instructed to implement Remote Learning Plans until we are able to open schools to regular attendance. This change will likely not be significantly different for our students from what they experienced during the week of March 17 - March 20. We are currently working on our Remote Learning Plan and will send out additional information when it is available. Remote Learning Plans do have specific requirements that we as a school district must meet.One of those requirements is that the Remote Learning Plan address the, "Accessibility of the remote instruction to all students enrolled in the school or district." The brief survey at the link shared below will provide us with important information about the technology available to our students and their families. We ask that one survey be completed per household. Please complete the survey at your earliest convenience, but no later than 12:00 PM Monday, March 30 so that we can review and plan accordingly. bit.ly/AOTechSurvey

Help us celebrate "AO Homeschool Spirit Week" this week! See the attached for day by day themes and use #BomberPride to show everyone how you are participating! #WEareAO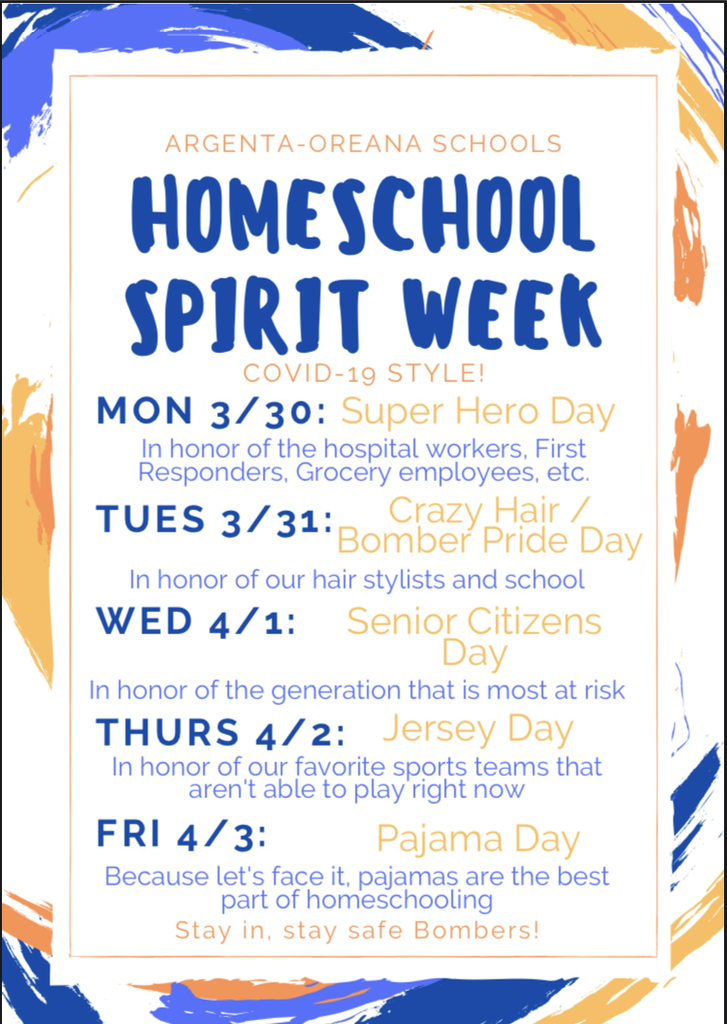 AO Grab and go meal information for next week (3/30-4/3/2020) is available at the link below. Please note changes (drop off days and time) and directions carefully.
http://bit.ly/AOmeals3
#WEareAO

Thank you Mrs. Stewart for putting this video together and thank you to all of our AWESOME AOHS staff for contributing! We miss our AOHS BOMBERS!! #WEareAO
https://youtu.be/pQ1bu34EBTc

Reminder - Please be sure to complete the AO Grab and Go Meal survey for the upcoming week. Mon. Wed. Fri. drop off only. #WEareAO
http://bit.ly/AOSBLunches

Argenta-Oreana will offer meals over Spring Break. Information regarding changes to meal delivery options and the link to the survey is shared on social media, the website, and through this communication.
http://bit.ly/AOSBLunches
#WEareAO

We have created a place for links to be shared by teachers! -
https://bit.ly/2QmPT9v
We hope this will make it easier to access everything from a central place. Lots of educational materials we use at school on here as well! We will continue to update and add to this. We miss our students and hope you are well!

AOCUSD Schools will be open for students and or parents from 2:00-6:00PM tomorrow to pick up any materials that students will need during the mandated school closure. Additional information will be sent out regarding academic support and guidance for our students after we meet with our teachers tomorrow. #WEareAO


We are so PROUD of our Bombers. As we steer through unchartered waters, we have encountered AMAZING openness to do what needs to be done. Administration, teachers, and staff are working together to meet our students needs. We will get through this together. #WEareAO

AOCUSD#1 will have an early dismissal tomorrow (3/5/20) for Parent / Teacher Conferences. Oreana EL dismissed at 2:00 Argenta MS/HS dismissed at 2:15 #WEareAO

AOCUSD#1 will have early dismissal tomorrow for Parent / Teacher Conferences. Oreana EL dismissed at 2:00 Argenta MS/HS dismissed at 2:15 #WEareAO

Early dismissal tomorrow 11/26. Elementary dismissed at 2:00 MS/HS Dismissed at 2:15. No school for Thanksgiving break 11/27-11/29/19. #WEareAO

AO schools will show our support for the Vandalia community by wearing black and red on Monday, November 18th. Our deepest sympathies are with them following the tragedy.

AO EL will dismiss at 2:00 PM and AOHS / AOMS will dismiss at 2:15 PM tomorrow (10/29/19) Parent / Teacher Conferences will be held from 4:00-7:00 PM #WEareAO