Congratulations to those enrolling in college, seeking a career in the trades, enlisting in the military, and those planning to work until they figure out their next step! Final transcripts have been sent to the colleges that students listed on their exit surveys. If you need your transcript sent anywhere else, please email Mrs. Mendez before Friday, 6/17. Good luck to the Class of 2022! We are so proud of you!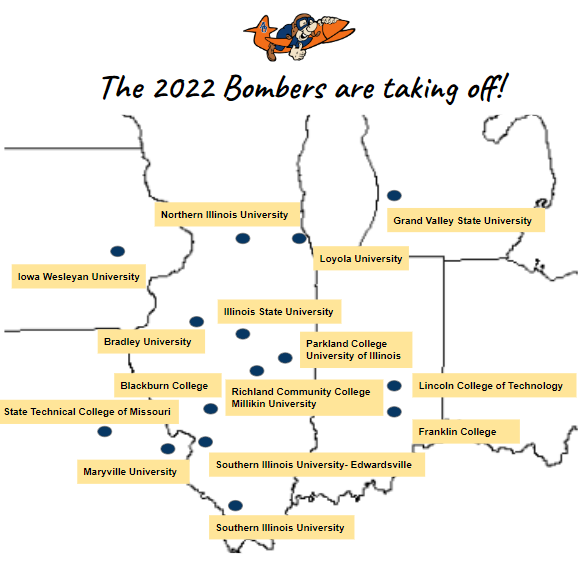 Have a safe Memorial Day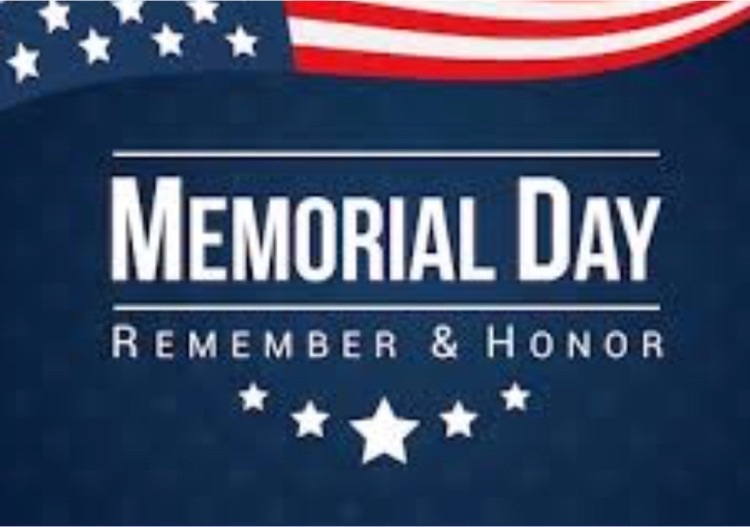 Congratulations AOHS CLASS OF 2022! #WEareAO #BOMBERPRIDE #ClassOf2022

#AOHSCLASOF2022 your stage is set and we are ready for your commencement ceremony! We will be outside and will start promptly at 6:00. #WEareAO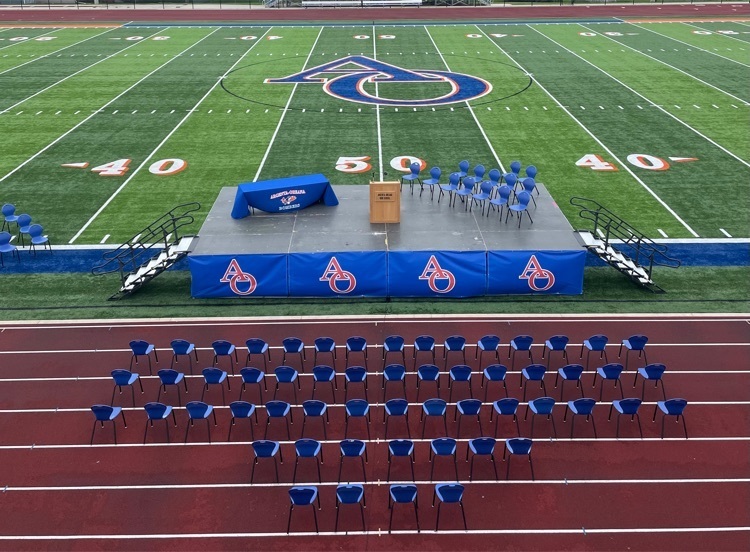 AOHS Parents/Guardians: If your student was identified as needing summer school, an invitation was sent to the parent's email address. If you did not receive an invitation for your student but think that you should have, please contact AOHS.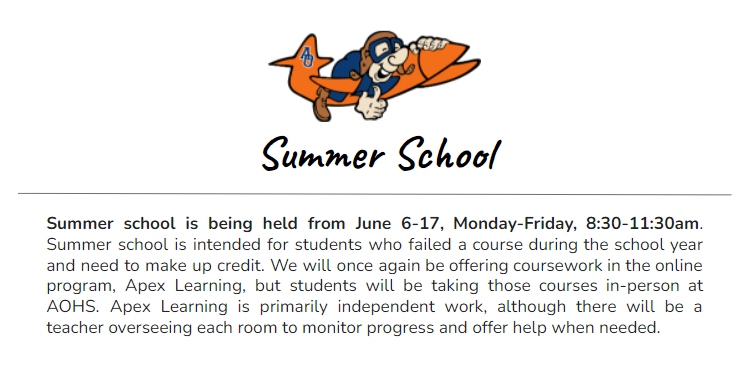 Graduating seniors, need a plan? Caterpillar is launching a new Machinist training program for high school graduates with training/aptitude in the industrial arts. CAT will pay for 5 courses at Richland and then transition you into a full-time position with benefits as a Machinist. Email Mrs. Mendez at
amendez@argenta-oreana.org
if you'd like the information. Students ages 16+: Bob Brady Buick GMC is looking for summer workers. Call Courtney at 217-520-9259 if you would like more information.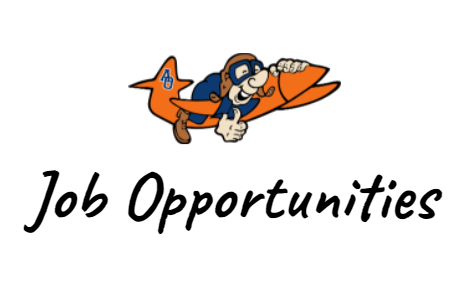 High School CrossFit Summer Program! Bombers take advantage of this opportunity to get better this summer! Thank you to our Athletic Trainer, Crystal Green and Kirby Medical Center for making this opportunity available to our students! #WEareAO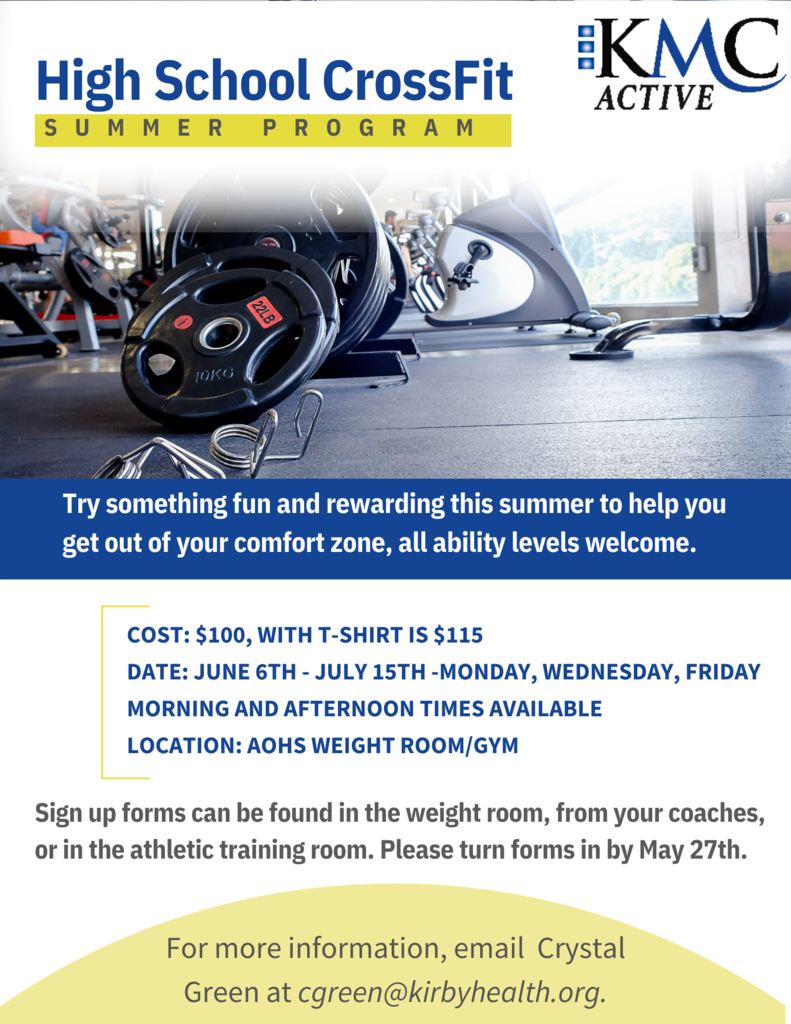 Come out and support the class of 2025 at "Spring into Argenta!" #WeAreAO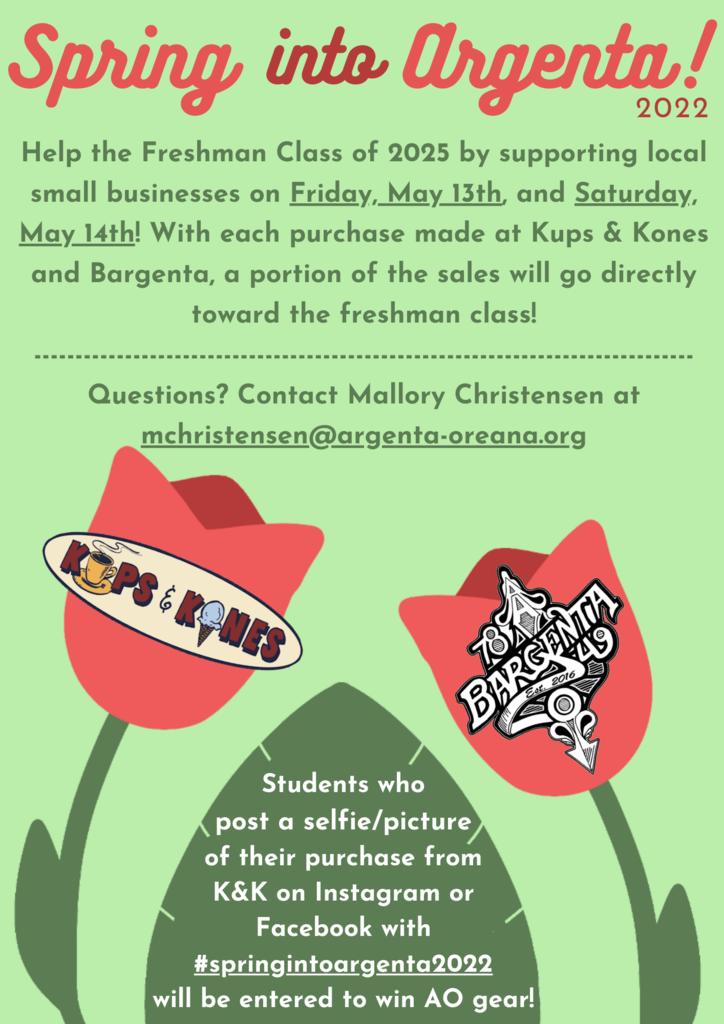 Graduating Seniors: Don't forget your cap and gown for pictures tomorrow! See email from Mrs. Stewart for more information.

The 2022 AOHS Baccalaureate Ceremony has been scheduled for Sunday, May 22. Come for a service celebrating and praying for the Class of 2022. We hope to see graduates and their families there! Refreshments will be provided after the service. This is an optional event.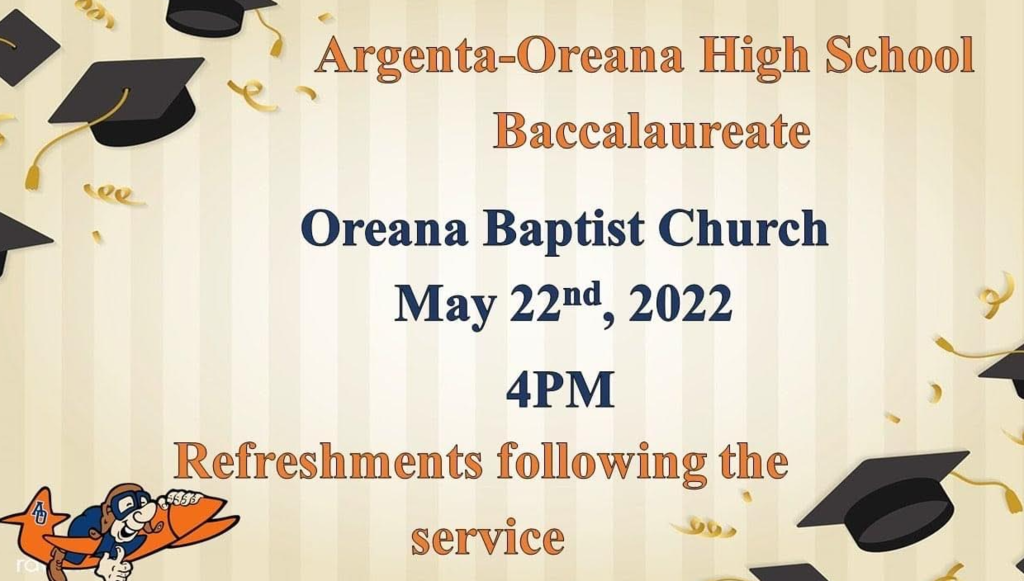 Spring has sprung! Mark your calendars, and join us for the freshman class event "Spring into Argenta 2022!," May 13th and 14th, sponsored by Kups & Kones and Bargenta! A portion of these businesses' proceeds will go directly toward the Freshman Class of 2025. Stop by; support the class, and also join the community for an antique tractor show, with more than 40 tractors, a lemon shakeup stand, and other vendors on the 14th! We hope to see you there!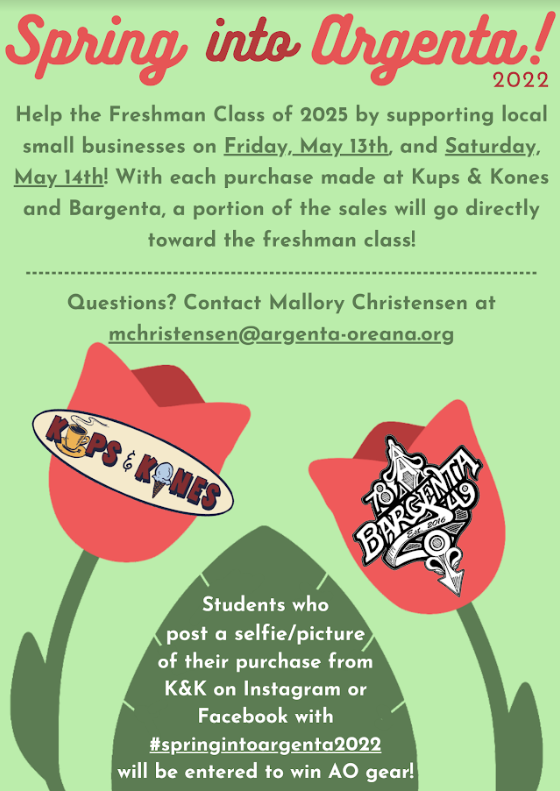 Seniors, If you have been awarded a scholarship, award, or other recognition through your chosen college/university or another organization, please email Mrs. Mendez with that information ASAP so that we may recognize you at Honors Night.

#Congratulations #WEareAO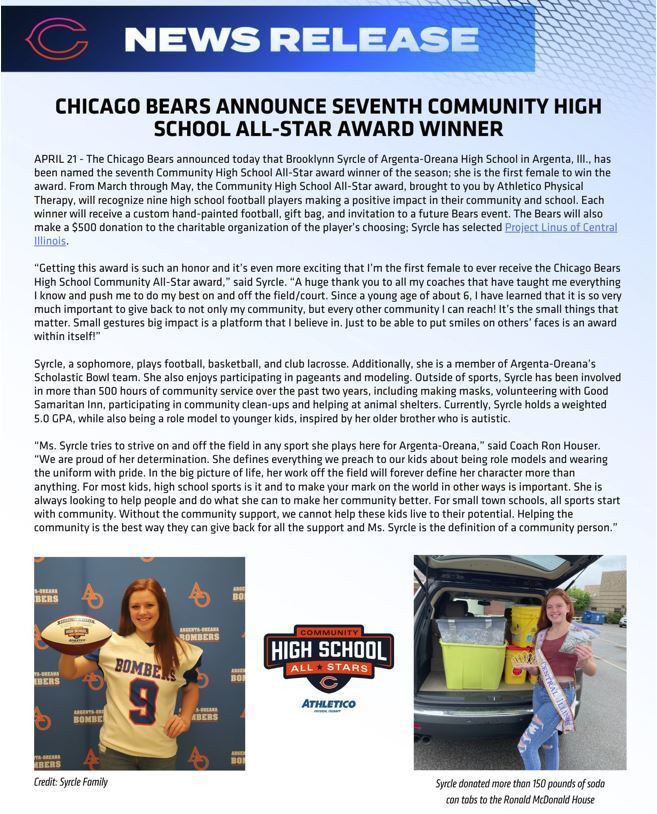 AOHS CLASS OF 2026! Great turnout for freshman orientation tonight! #WEareAO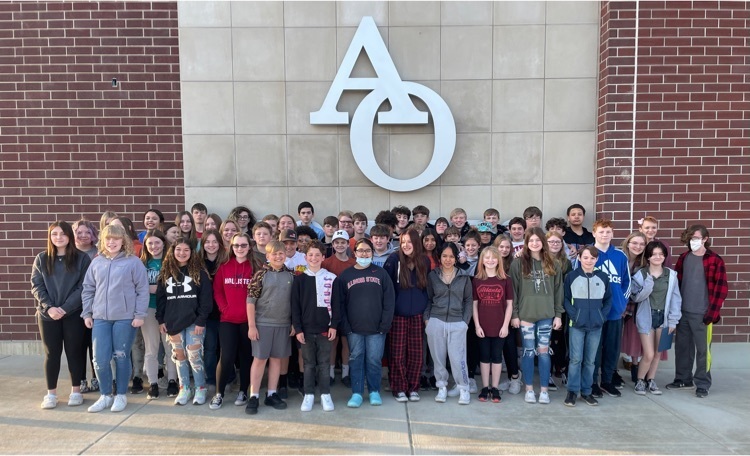 Class of 2026 - Tuesday, April 26 We hope you see you there! #WEareAO #BOMBERPRIDE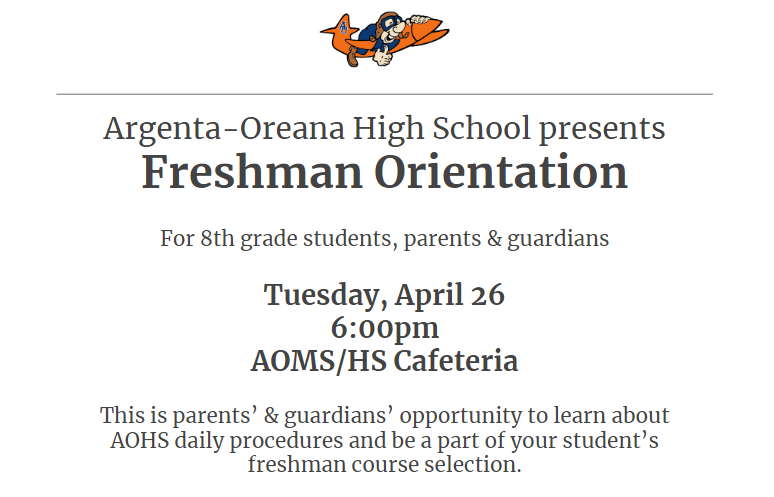 More information and application links/downloads can be found at AOHS > Guidance Counseling > Scholarships.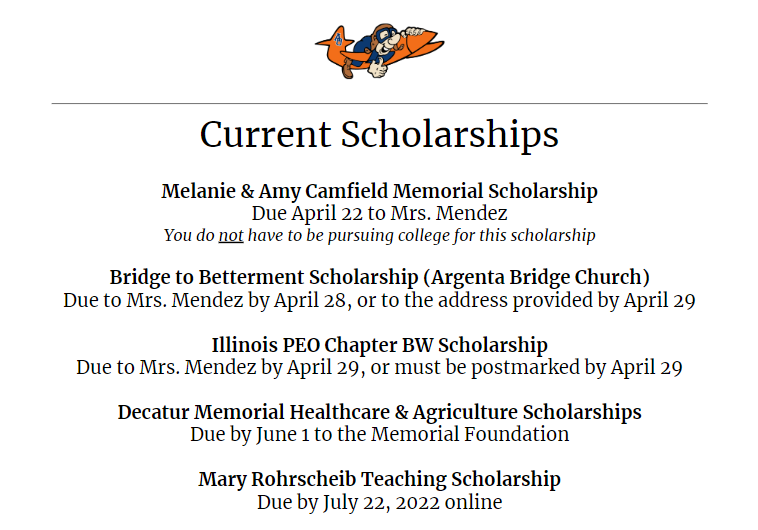 Decatur Mack is looking for summer and/or full time help. You must be 16 or older by the time you start work. No experience necessary, just an interest in working with your hands! See below for more information.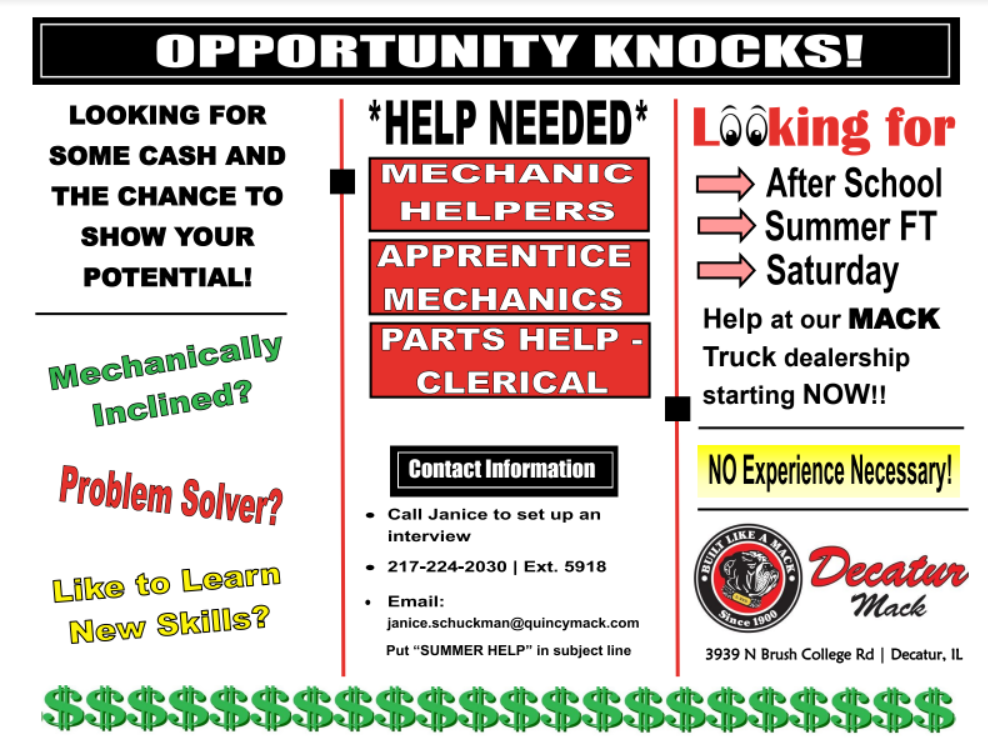 RCC will be visiting AOHS next Wednesday, April 20, to sign our students up for fall 2022 dual credit courses. Students should check their email for information from Mrs. Mendez.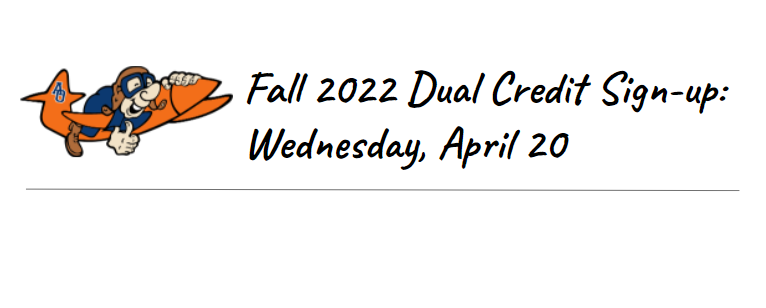 We're sending a big thank you to all of our awesome students for a successful day of state testing on Wednesday! We had excellent attendance and the students were troopers during their tests. Thank you as well to the parents who ensured their student was on-time and prepared.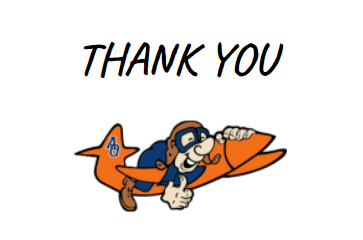 Testing Reminders for tomorrow, Wednesday, 4/13.